By Eric Kotter, a member of The Church of Jesus Christ of Latter-day Saints ("Mormon"). Eric is a student at BYU-Idaho studying communications.
The Book of Mormon is an ancient record of holy scripture that gives an account of God's dealings with the ancient inhabitants of the American continent. In Alma chapter 36 of the Book of Mormon, Alma, an ancient prophet, talks to his son about his conversion to the gospel of Jesus Christ. When Alma was younger, he was not a part of the Church of Jesus Christ in the land. In fact, he actively went about "seeking to destroy the church of God" and he led many people astray from the gospel. One day while he was out with some of the king's sons, who were also disturbers of the church of God, an angel appeared to them. The angel told Alma and the king's sons to stop persecuting the church. The angel said to Alma, "If thou wilt of thyself be destroyed, seek no more to destroy the church of God" (Alma 36:9).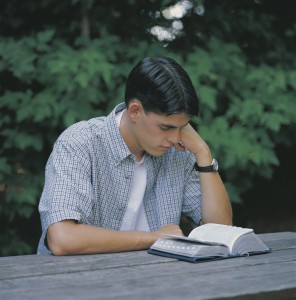 When the angel said this to him, he fell to the earth unconscious and unable to move for three days. This is what Alma said happened to him after he was struck down:
Yea, I did remember all my sins and iniquities, for which I was tormented with the pains of hell; yea, I saw that I had rebelled against my God, and that I had not kept his holy commandments.
We might not necessarily go through a situation as extreme as Alma's experience was, but we all have our own weaknesses, sins, or challenges to work through in our lives that require the help of the Savior. This next part tells us how Alma was freed from these awful pains, and it teaches us how we can all receive help through Jesus Christ.
And it came to pass that as I was thus racked with torment, while I was harrowed up by the memory of my many sins, behold, I remembered also to have heard my father prophesy unto the people concerning the coming of one Jesus Christ, a Son of God, to atone for the sins of the world.

Now, as my mind caught hold upon this thought, I cried within my heart: O Jesus, thou Son of God, have mercy on me, who am in the gall of bitterness, and am encircled about by the everlasting chains of death.

And now, behold, when I thought this, I could remember my pains no more; yea, I was harrowed up by the memory of my sins no more.

And oh, what joy, and what marvelous light I did behold; yea, my soul was filled with joy as exceeding as was my pain!
This chapter helps me because it helps me see that the true source of healing, comfort, and cleansing from our sins, comes from Jesus Christ. When I put my trust and faith in His power to redeem, and seek to follow His gospel, then I can feel my burdens lightened and lifted. A belief in Him leads to greater happiness in our lives. It allows an opportunity for us to feel His grace. It allows us to be freed from our sins as well as to receive grace and comfort during hard times. Alma continued by talking about the blessings he received through his belief and faith in Jesus Christ:
Yea, I say unto you, my son, that there could be nothing so exquisite and so bitter as were my pains. Yea, and again I say unto you, my son, that on the other hand, there can be nothing so exquisite and sweet as was my joy.
The Book of Mormon helps us come to know Christ better. It helps us better understand the things that He did for us. This understanding gives us a greater opportunity to exercise faith and believe in Him. I know that as we come to know Jesus Christ and follow His teachings, we can feel His love and be healed of sins and problems. When we believe in Christ and come to gain a greater understanding of what He did for us, it also leads us to care more about other people, and our desire to serve them increases.
Additional Resources:
Get a free copy of The Book of Mormon.
Learn more about the blessings of having faith in Jesus Christ at the official website of The Church of Jesus Christ of Latter-day Saints (inadvertently called by friends of other faiths, the "Mormon Church").