Have you heard of the Book of Mormon? The Book of Mormon is a book of scripture not unlike the Bible and is unique to The Church of Jesus Christ of Latter-day Saints (often inadvertently referred to as the Mormon church). The Book of Mormon chronicles the ancient generations of God's people in the Americas. The crux of the Book of Mormon is when Jesus Christ Himself visits the peoples in the Americas. The book within the Book of Mormon where this happens is 3 Nephi (pronounced Nee-Fy).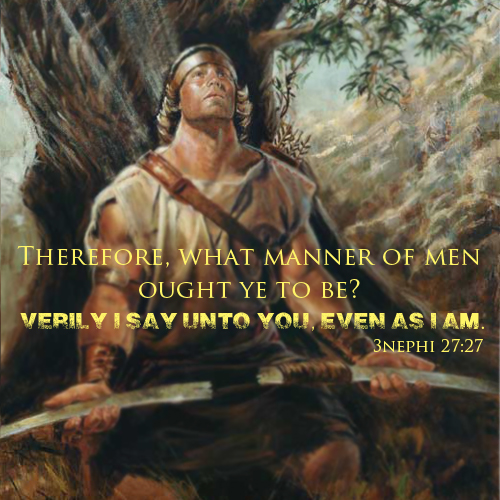 Christ gives several sermons to the people. One of these sermons discusses works, a concept often misunderstood in other Christian denominations. Christ's sermon in 3 Nephi 27 explains more about works and how they operate within the grace of Jesus Christ.
Building Christ's Church
When Jesus visits the Americas, He spent quite a bit of time establishing His church among the people. He called apostles and demonstrated the sacrament. He instructs that the church needs to be in His name:
And how be it my church save it be called in my name? For if a church be called in Moses' name then it be Moses' church; or if it be called in the name of a man then it be the church of a man; but if it be called in my name then it is my church, if it so be that they are built upon my gospel. (3 Nephi 27:8)
Christ continues to say that "if it so be that the church is built upon my gospel then will the Father show forth his own works in it" (27:10). If the people build the church upon the gospel of Jesus Christ, then Heavenly Father will be able to manifest His works through it. If, however, the people decide to build the church upon their own works and ideas, Christ says, "they have joy in their works for a season, and by and by the end cometh, and they are hewn down and cast into the fire."
Why is it important that the true church be built on the gospel instead of on the works of men and women? This is crucial because men and women are fallible; the doctrines of the gospel of Jesus Christ, however, are perfect. Even though the church will be operated by imperfect people, the strength of the purity of the doctrines will compensate for our shortcomings. A church built upon our own works would fail and lead us away from God.
Our Works Are Important
Some Christian denominations disagree about which will get one to heaven: grace or works.The answer is both. We would have no chance of returning to Heavenly Father without the grace of Jesus Christ. Christ Himself explains His purpose in God's plan:
And my Father sent me that I might be lifted up upon the cross; and after that I had been lifted up upon the cross, that I might draw all men unto me, that as I have been lifted up by men even so should men be lifted up by the Father, to stand before me, to be judged of their works, whether they be good or whether they be evil. (27:14)
So the Savior came to earth so that He can draw us unto Him, but our choices here still make a difference. Jesus Christ can't save us if we don't let Him, and the way by which we accept His grace is to pattern our lives after His.
We Accept Christ by Living His Commandments
I have a friend who thought that Mormons' emphasis on works contradicted the grace of the Savior. She thought that by accepting Him you were automatically saved, that there were no further action to be taken to achieve salvation. This isn't what the doctrine of Jesus Christ teaches us. When Christ was preaching to the people in the Book of Mormon, he said that "this is my gospel; and ye know the things that ye must do in my church; for the works which ye have seen me do that shall ye also do; for that which ye have seen me do even that shall ye do" (27:21).
Christ did suffer for us and did atone for our sins, but that gift isn't free. If we are to accept His infinite gift, we must do so upon His conditions, which are to live His commandments and strive to become like Him. That's why our works are so important: our works are what demonstrate to the Savior who we are becoming and to what extent we accept His grace.
Jesus summed up this sermon in a simple sentence: "Therefore, what manner of men ought ye to be? Verily I say unto you, even as I am" (27:27). God certainly does not mean for us to earn our way to heaven; that would indeed contradict the plan of redemption. What He does intend, however, is for the depth of our conviction to be made manifest in how we live. This life is one of becoming, and if we are to be saved by Christ, we must accept Him by trying to become like Him. He will know our hearts and know of our intent. If we simply do the best we can, He will make up the rest and shape us so that one day we will be as He is.
The grace of Jesus Christ is amazing because it affects our souls. Christ's grace is what allows us to change and choose and become. Our works operate in tandem with the Savior's grace, allowing us to outwardly change and become like Him.