Sariah was the wife of the prophet Lehi who lived about 600 B.C in Jerusalem. Sariah was likely the first person to hear about her husband prophet's visions and dreams which are recorded in The Book of Mormon (written by their descendents). The Mormon book is considered scripture within The Church of Jesus Christ of Latter-day Saints (commonly misnamed the Mormon Church) and contains stories about Sariah's family. Her husband Lehi dreamed about her during his vision of tree of life when he directed her toward the white sweet fruit of the tree of life (1 Nephi 8:14–16). I love this story because I can picture Sariah studying the words written by prophets within the scriptures and treasuring the words of Christ throughout her life.
Mormon Christian Mother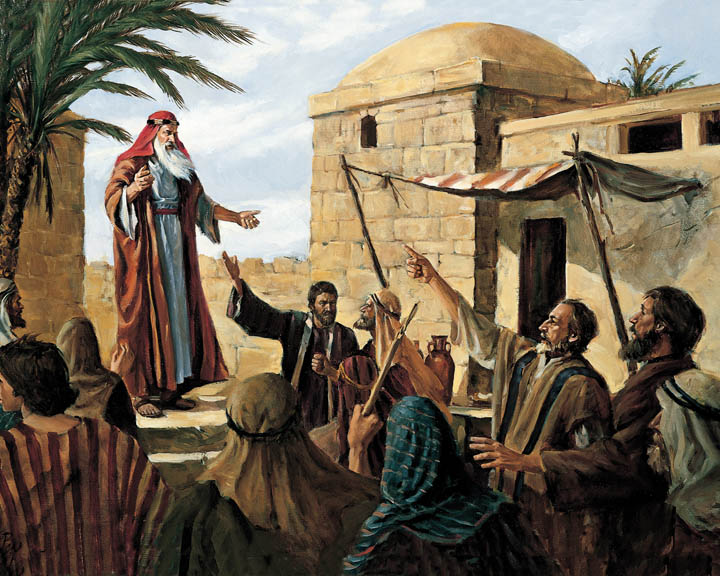 Sariah lived in Jerusalem as the mother of four boys (Laman, Lemuel, Nephi, and Sam) until her husband was warned in a dream to flee with his family. She obediently left the comfort of her house, homeland, and financial security to travel into the wilderness by the Red Sea with only the necessary provisions and tents (1 Nephi 2:2-5). I have been camping or temporarily moved out of the country with two filled suitcases, yet I always had access to running water and modern conveniences. I can't begin to imagine living years in the wilderness because of a prophet's warning to flee my home.
Sariah complained to her prophet husband for taking their family out of their homeland when she'd thought that her sons may have died in the wilderness. Lehi testified to his wife that God would protect their sons, who had journeyed back to Jerusalem for scriptural & genealogical records. When her sons returned safely, she testified that she knew her husband was a prophet called of God:
And she spake, saying: Now I know of a surety that the Lord hath commanded my husband to flee into the wilderness; yea, and I also know of a surety that the Lord hath protected my sons, and delivered them out of the hands of Laban, and given them power whereby they could accomplish the thing which the Lord hath commanded them. And after this manner of language did she speak (1 Nephi 5:8).
Sariah had a strong testimony of God despite the trials and tribulations her Mormon family faced traveling in the desert for eight years. She gave birth to her sons Jacob and Joseph while traveling in the desert. She almost died while crossing the ocean to the Americas by ship. She and her husband "suffered much grief because of their children, they were brought down, yea, even upon their sick-beds (1 Nephi 18:19). However, Sariah trusted God and remained obedient during the hard times.
And we did travel and wade through much affliction in the wilderness; and our women did bear children in the wilderness. And so great were the blessings of the Lord upon us, that while we did live upon raw meat in the wilderness, our women did give plenty of suck for their children, and were strong, yea, even like unto the men; and they began to bear their journeyings without murmurings. And thus we see that the commandments of God must be fulfilled. And if it so be that the children of men keep the commandments of God he doth nourish them, and strengthen them, and provide means whereby they can accomplish the thing which he has commanded them; wherefore, he did provide means for us while we did sojourn in the wilderness (1 Nephi 17:1-3).
The example, faith, and obedience of Sariah have helped me during my personal trials and tribulations. She was asked to leave her homeland and move to another country when travel was not convenient. I can follow the prophet's counsel and God's commandments even when it may not be convenient. It may not be easy to stand for my Christian beliefs, but I know God will bless me for my obedience.
Sometimes we think that because our circumstances are difficult, it is not practical to keep all the Lord's commandments… But as we obey the commandments, we have the evidence of blessings, feelings of accomplishment, and inner peace… Heavenly Father truly looked after their needs as they exercised great faith to be obedient (Barbara W. Winder, "Draw Near unto Me through Obedience," General Conference, October 1985).
When bad things happen or times get hard, we can turn to our Savior Jesus Christ for comfort, peace, and direction. After remaining obedient and faithful throughout difficult times, we can see God's hand protecting us and agree with Sariah's son Nephi that "ye shall know that I, the Lord, am God; and that I, the Lord, did deliver you from destruction" (1 Nephi 17:14).
Additional Resources:
Order your free copy of The Book of Mormon
Read an article about Sariah's son, Sam
Read the LDS beliefs about finding hope through the Savior Jesus Christ