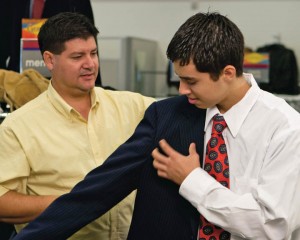 The Book of Mormon: Chapter Twenty-Seven: Alma 17:29
29Now they wept because of the fear of being slain. Now when Ammon saw this his heart was swollen within him with joy; for, said he, I will show forth my power unto these my fellow-servants, or the power which is in me, in restoring these flocks unto the king, that I may win the hearts of these my fellow-servants, that I may lead them to believe in my words.
The Savior's power is inherent in His servants, those who enter baptism by one in authority, are confirmed and set apart in His kingdom.  I love this passage by a living prophet (LDS "Mormon", prophet of The Church of Jesus Christ of Latter-day Saints), speaking to the rank and file commitment of everyday Mormons to Christ and His service, and the myriad ways His power is evidenced in their lives.
I've seen courage in the military. I've witnessed courage in the classrooms of learning and the factories of industry. Never have I observed its beauty more radiant than reflected from the service of a missionary. As a member of the Missionary Executive Committee of the Church, I often interview prospective missionaries who have physical impairments or other shortcomings. In considering the recommendation of one such candidate, the bishop of the ward had written: 'Brother ________ is badly scarred due to an automobile accident. However, if courage will help, he'll lead the lot.' I made an appointment to visit with the lad. My initial reaction upon meeting him was one of mixed surprise and pity. His face was badly scarred. He had been trapped in a burning automobile. Gone were his eyebrows, eyelashes, portions of his nose and face. 'Son,' I responded, 'if you were in the mission field, there would be those who would reject your message and you may feel that they were rejecting you. This would be unbearable.'

'Brother Monson,' he replied, 'I have become accustomed to that challenge. It doesn't bother me anymore. I so much want to serve the Lord and to preach the gospel. Please let me be called.' The courage of his spirit bore witness to me of his faith. He received a call. After two years of outstanding missionary activity, his president wrote, upon the occasion of his honorable release:

'The bearer of this letter has served in this mission for two years. He has been one of the finest missionaries in our mission over the whole time that he has been here. He has been effective as a leader, as a proselyting missionary, as the liaison between the mission office and the several stakes in which he has served, and in all respects his performance has been without flaw.

'He has handled his personal problem, his severe scarring, in a way which has discouraged or affronted no one. It has been on a basis that "this is my problem; don't worry about it.

'We love him dearly. We are grateful for his services; and if you have any more just like him, send them along.' (Thomas S. Monson, Pathways to Perfection, pp. 145–46).