Many people wonder if there is a purpose to life. How can I find more meaning to my life? As a member of The Church of Jesus Christ of Latter-day Saints (inadvertently called by friends of other faiths, the "Mormon Church"), I testify that life does have a purpose. We had a life before life here on earth. We are all literally spirit children of God the Father; the creator of the universe. We lived with Him before this life as His children. He taught us about the Plan of Salvation while we lived with Him and He loves and cares about us.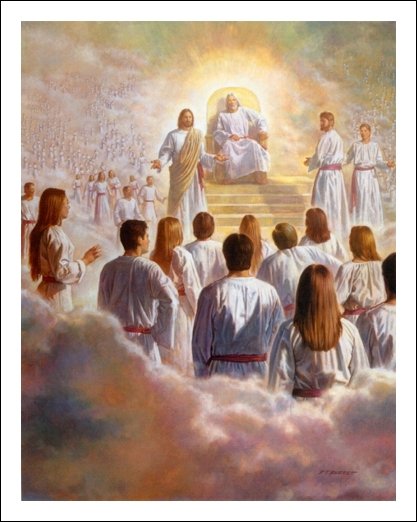 The Book of Mormon, a record of holy scripture that gives an account of God's dealings with the ancient inhabitants of the American continent, has helped me come to know that we lived with God before we were born. It teaches of all these truths, which have brought purpose and meaning to my life. The teachings of the Book of Mormon are the teachings of Jesus Christ. I know the Book of Mormon is the word of God because of the Holy Spirit that has testified to me that they are the words of Jesus Christ.
A Book of Mormon prophet named Alma references clearly the Savior's doctrine of a pre-mortal life where we lived as intelligent spirits and grew in the presence of God, before coming to mortality to further progress. Alma  explains the opportunities presented to the spirit children of God in the premortal existence in these words:
In the first place being left to choose good or evil; therefore they having chosen good and exercising exceedingly great faith, are called with a holy calling…on account of their faith, while others would reject the Spirit of God on account of the hardness of their hearts and blindness of their minds, while, if it had not been for this they might have had as great privilege as their brethren. Or in fine, in the first place they were on the same standing with their brethren; thus this holy calling being prepared from the foundation of the world for such as would not harden their hearts, being in and through the Atonement of the Only Begotten Son" (Alma 13:3-5; emphasis added ).
The "first place" here refers to one's first estate or premortal existence. As a major part of our life before life here on earth, God gathered all His children together for a grand council called the council in heaven. During this council, He explained to us the Plan of Happiness. This plan included coming down to the earth to gain a physical body as He has. We came to this earth to learn to choose the good over the evil and to experience joy. Jesus Christ was called as the Savior and redeemer to save us all from sin and its effects. Without Jesus Christ, none of us could return back to Heavenly Father and live in joy and happiness. I know that Jesus Christ is the foundation for our happiness and redemption. Another Book of Mormon prophet rejoices over the Plan of Redemption saying:
O the greatness of the mercy of our God, the Holy One of Israel! For he delivereth his saints from that awful monster the devil, and death, and hell, and that lake of fire and brimstone, which is endless torment.

O how great the holiness of our God! For he knoweth all things, and there is not anything save he knows it.

And he cometh into the world that he may save all men if they will hearken unto his voice; for behold, he suffereth the pains of all men, yea, the pains of every living creature, both men, women, and children, who belong to the family of Adam.
Additional Resources:
Obtain a free copy of The Book of Mormon: Another Testament of Jesus Christ.
Learn more about God's plan for us and our life before life on earth.
Learn more about God's plan of happiness from an official website of The Church of Jesus Christ of Latter-day Saints.