Bible and Book of Mormon Reflections : Hope, One Mile Ahead, by Cecily M.
When visiting a single friend in Salt Lake recently, I was intrigued by a magnet that adorned her refrigerator. Simply made, it was a photograph attached to a magnetic strip, and it showed a familiar sight—a green road sign with white letters. This one, however, proclaimed "Hope, 1 Mile."
My friend explained that shortly after her divorce she and her daughter had taken a road trip and had run across this sign.
"I couldn't resist getting out and taking a picture," she said. "It was nice to know that hope was just ahead."
At a time when she was down and discouraged, feeling that her foundations were shaken, this simple sign reminded her that hope for better times and for promised blessings could still shine brightly. Even when days seem the darkest and most impossible, the scriptures teach us that there are ways that hope can be felt—if not in the moment—just "one mile" down the road.
In Romans 4:23 and 24, we read that Abraham's example of hope and faith was not for "his sake alone…but for us also."
Earlier in this same chapter of Romans, in verse 13, we are reminded that Abraham received certain promises that he would be the father of nations, not through the law, but "through the righteousness of faith."
Remember, Abraham was old when the prophecy was given that his descendants would be as the sand of the sea. Both he and his wife, Sarah, were beyond what should have been their childbearing years. If he had looked at this matter logically, or as the scriptures say, "through the law," he could have felt hopeless, thinking that it would be impossible to have the blessings promised him because he was much too old to have a child.
However, as Romans 4:18 says, Abraham was someone "who against hope, believed in hope." The passage goes on describe Abraham further as, "being not weak in faith," saying, "he considered not his own body now dead, when he was about an hundred years old, neither yet the deadness of Sarah's womb:"
In other words, Abraham didn't falter in his faith. He didn't give up; he didn't think his body was "dead," even though his age would seem to prohibit the slightest chance of bringing even one child into the world, let alone an entire nation.
Rather than being discouraged by what was true about his physical circumstances, Abraham was certain that the Lord could fulfill his promises, regardless of the situation. The scriptures say that Abraham, "staggered not at the promise of God through unbelief; but was strong in faith, giving glory to God; and being fully persuaded that, what he had promised, he was able also to perform." (Romans 4:21)
For many who have faced disappointments in relationships, failed businesses or difficulties in overcoming personal challenges and addictions, it may seem too late; we may feel that our time has passed, or that we have somehow missed our opportunity to have certain blessings in our lives.
In fact, each of us may have times of discouragement and despair, times that we feel are "against hope." At these times, we need to know that hope may, indeed, lie just "one mile" ahead. For my friend, a simple road sign helped to remind her that hope could still be accessed; all she needed to do was hold on a little longer and proceed in faith, trusting that Heavenly Father can, indeed, fulfill every promise.
For each of us, even when the road seems roughest, there are spiritual road signs that can point the way to find increased hope, just ahead. What do some of those signs tell us?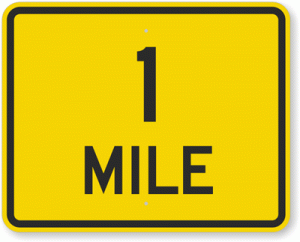 Press forward. Even when times seem the toughest, we will find that hope will increase as we move forward rather than "wallowing in the mire." In the Book of Mormon, in 2 Nephi 31:20, we are told that we are to continue moving forward even after we have "entered into the strait and narrow path." In fact, the scripture says to "press" forward with "steadfastness" and reminds us that that steadfastness should be "in Christ." Also in this verse, we are told to hang on to a "perfect brightness of hope," a "love of God and of all men," and to read our scriptures diligently ("feasting upon the words of Christ"). We are promised that if we will do so, if we will keep moving forward—regardless of the circumstances that may come our way—we will have eternal life.
Enjoy the ride. When we find ourselves mired in situations that seem completely hopeless, sometimes it is difficult to see the eternal significance of our trials and to understand that it is those very situations that can bring hope, "against hope." Again, in Romans, we are given some interesting insight into this process. Romans 5:3-4 says, " …we glory in tribulations also: knowing that tribulation worketh patience; and patience, experience; and experience, hope." In other words, the very situations that try our patience and test our hope also teach us that our Heavenly Father does keep his promises and seeks to bless us. If Abraham had been blessed with children when it seemed logical, "by the law," he would have had no need to exercise hope. Like Abraham, as we learn to rely on God, and, yes, even to glory in our tribulations, we will find that our experiences will help strengthen our faith and hope.
Be not ashamed. Romans 5:5 tells us, "hope maketh not ashamed because the love of God is shed abroad in our hearts by the Holy Ghost which is given unto us." In other words, if we love God and make our hearts a fit abode for the Holy Ghost, we have the kind of hope that lifts our hearts and makes us unashamed of our situations and our trials.
Seek for the Comforter. As noted above, the Holy Ghost will not only free us from shame, but can also fill us with increased love and hope. In Moroni 8:26, we read that we are to have "meekness and lowliness of heart" after which "cometh the visitation of the Holy Ghost, which Comforter filleth with hope and perfect love, which love endureth by diligence unto prayer." Meekness allows the Comforter to enter our lives, while diligent prayer will allow the Comforter to continue with us and to fill our hearts with hope.
Believe in God. In Ether 12:4, another powerful passage reminds us that we can always have hope—hope not only for a better world, but even for a place at the right hand of God—if we will but believe what our Heavenly Father has told us. "Wherefore, whoso believeth in God, might with surety hope for a better world, yea, even a place at the right hand of God, which hope cometh of faith, maketh an anchor to the souls of men, which would make them sure and steadfast."
Indeed, each of us has times—and some of us, even now—when we may be faced with situations and circumstances that seem completely hopeless. Yet, we can turn to the scriptures and find that hope lies just ahead. Indeed, if we will proceed with a steadfastness in Christ, glory in our tribulations, be not ashamed, seek for the Comforter and believe in God—in other words, if, like Abraham, we will "against hope, hope"—we can have the blessings promised to us just as surely as did Abraham, for "after he had patiently endured, he obtained the promise." (Hebrews 6:15)
The spiritual road signs surely lead to hope, "which hope we have as an anchor of the soul, both sure and steadfast." (Hebrews 6:19)
Cecily M. is a freelance writer in Gilbert, Arizona.
Recieve inspiration from the Book of Mormon by requesting a free copy!