So in Book of Mormon religion class we discussed 3 Nephi 11-14. This is the first few chapters of Jesus Christ's visit to the Americas. I don't know about you, but I always feel a personal connection to this visit. Maybe it's because we lived in Mexico City and visited all these places many times so it's really easy to connect with the setting and the people. Especially for me as I prepare to go back, I know that I need to pay really close attention. I really liked the beatitudes given in chapter 12. Our teacher explained them in a new way to me that finally makes them applicable to me and you and anybody else.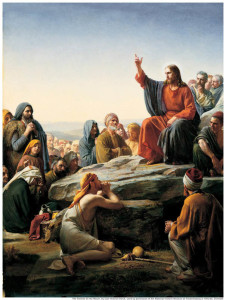 First is "blessed are the poor in spirit." All of us are poor in spirit at one time or another. Especially when we realize we have sinned before God. Second is "blessed are all they that mourn." When we sin, we feel bad and mourn for what we have done. Third is "blessed are the meek." Because we feel bad we humble ourself before the Lord and ask for forgiveness. Fourth is "blessed are all they who do hunger and thirst after righteousness." Once we ask for forgiveness we need to strive to be better and do the right thing. Fifth is "blessed are the merciful." If we want to be forgiven by the Lord, then we need to be forgiving of others. Sixth is "blessed are all the pure in heart." Are we actually being better, are we hungering and thirsting after righteousness at this point. Seventh is "blessed are the peacemakers." We need to strive to do the right thing and be peaceful and friendly with others. This shows that we are becoming like Christ. Last is "blessed are all they who are persecuted for my name's sake." We are going to be persecuted for doing what is right and for following Christ. The important thing is that this is a process we will continually go through in life.
The very first and last beatitudes both say that we will be blessed with the kingdom of heaven. Think of these 8 things as a spiral staircase going towards heaven. We will continually experience each step, but we will be moving upward, toward Heavenly Father. As we move upward ours will be the Kingdom of Heaven.
I hope you enjoyed this and learn something about our progress and repentance.