Jesus' Words on Life
The Book of Mormon contains restored doctrine concerning life, adding to what the Bible says. As the Book of Mormon is Another Testament of Jesus Christ, one of the most important things it says about life is that Jesus Christ "is the light and life of the world; yea, a light that is endless, that can never be darkened; yea, and also a life which if endless, that there can be no more death" (Mosiah 16:9). Without Jesus Christ, there would be no hope for "life which is endless," or eternal life. There would also be no life after death, another important doctrine about life that the Book of Mormon teaches.
Amulek, one of the Book of Mormon prophets, taught about life after death, explaining that all men will be raised from physical death, that the grave will surrender the dead and our bodies and spirits will be reunited. He says that "this mortal body is raised to an immortal body, that is from death, even from the first death unto life, that they can die no more" (Alma 11:43-45).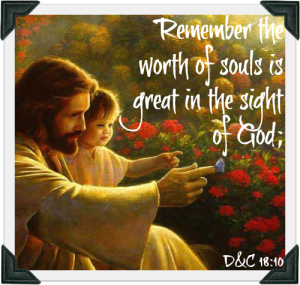 Amulek also discusses another important doctrine about life. He taught that "this life is the time for men to prepare to meet God," and that all people need to repent and become worthy now. He continued: "Do not procrastinate the day of your repentance until the end; for after this day of life . . . if we do not improve our time while in this life, then cometh the night of darkness wherein there can be no labor performed" (Alma 34:32-33). Living on earth is a chance for us to come closer to Christ, to learn and grow, and repent of our sins and transgressions.
The Book of Mormon teaches us that our lives on earth are a precious time for us to learn and grow, and prepare to return to our Heavenly Father. We learn that our lives on earth are not random, but purposeful, and that we will live again after death.

Jesus' Words on Deliverance
Deliverance is a closely related topic to life, especially life after death. In the Book of Mormon, we learn that it is through Christ we are delivered from physical death; resurrection is a deliverance from the grave, and is offered as a free gift to all mankind because of the Atonement. The Book of Mormon says that the people looked "forward to that day, thus retaining a remission of their sins; being filled with great joy because of the resurrection of the dead, according to the will and power of deliverance of Jesus Christ from the bands of death" (Alma 4:14). We can be delivered from physical death, through resurrection, and from our sins, through repentance, because of the atonement of Christ.
Much of what is taught in the Book of Mormon about deliverance is through stories, rather than discourse. One example is the story of Alma and Amulek, two missionaries who left their homes to preach the gospel. They ventured into an unfriendly city, and were taken captive, not unlike missionaries in Biblical times. The leader of the city mocked them: "If ye have the power of God deliver yourselves from these bands, and then we will believe that the Lord will destroy this people." Alma prayed, "O Lord, give us strength according to our faith which is in Christ, even unto deliverance."  Then, the record states that "they broke the cords with which they were bound; . . . and Alma and Amulek came forth out of the prison, and they were not hurt; for the Lord  had granted unto them power, according to their faith which was in Christ" (Alma 14:24-28).
From this example, we can see that deliverance, whether it is from physical or spiritual bondage, comes through faith in Jesus Christ. There are countless other examples of deliverance from physical or spiritual bondage in the Book of Mormon, always through faith in Jesus Christ. However, when the people stopped having faith, they could not be delivered. Thus, through the example of others in the Book of Mormon, we can learn how and why we can be delivered from physical or spiritual bondage.
Jesus' Words to the Book of Mormon Peoples
The crowning event in The Book of Mormon: Another Testament of Jesus Christ takes place in the Book of 3 Nephi, when the resurrected Savior visited the Book of Mormon peoples, as was promised and prophesied. When Jesus was crucified, there were terrible storms and destruction in the Americas. Many people were killed and cities were destroyed. After the storms ceased, darkness covered the land for three days while the Savior was dead. In the darkness, the people who had lived through the destruction heard Jesus' voice, reciting the fate of the cities that had been destroyed because of their wickedness. The next words that Jesus spoke summarize what the Book of Mormon says about life and deliverance:
"Yea, verily I say unto you, if ye will come unto me ye shall have eternal life. Behold, mine arm of mercy is extended towards you, and whosoever will come, him will I receive; and blessed are those who come unto me. . . . And as many as have received me, to them have I given to become the sons of God; and even so will I to as many as shall believe on my name, for behold, by me redemption cometh."

(3 Nephi 9:14, 17).
From these verses, we learn that Jesus Christ is the way to eternal life. He will deliver us from sin and death, and is the only way to salvation. This is the message of the Book of Mormon: that Jesus Christ is the only way for us to be saved from sin, and return to live with Heavenly Father again.