BYU Students Share Letters & Reflections on Scripture  
 BYU (Brigham Young University) is operated by The Church of Jesus Christ of Latter-day Saints, often mistakenly called the "Mormon Church."  As part of their undergraduate coursework, BYU students take multiple semesters of spiritually uplifting, stimulating religion classes.
In this series (see below), students enrolled in scripture study classes have shared their thoughts, insights, and reflections on the Book of Mormon. We invite you to take a look at their epiphanies and discoveries as they delve into the scriptures.
In publishing these, we fulfill their desire to speak to all of us of the relevance, power and beauty of the Book of Mormon, a second witness of Jesus Christ and complement to the Bible. The Book of Mormon includes the religious history of a group of Israelites who settled in ancient America.  (The names they use are those of prophets who taught the Book of Mormon peoples to look forward to the coming of Christ—Nephi, Lehi, Alma, Helaman, and other unfamiliar names.  We hope those names will become more familiar to you as you read their inspiring words and feel the relevance and divinity of their messages.)
Let us know if you'd like to receive your own copy of the Book of Mormon, and/or if these messages encourage and assist you spiritually as well.
Parallels Between Prophets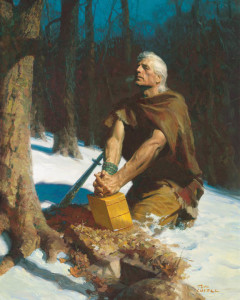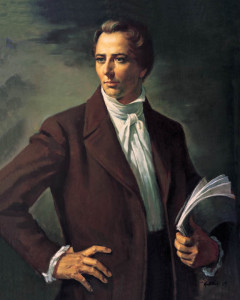 I've been pondering the Lord's use of patterns and similitudes this week. It's so interesting to match ancient prophets with modern day prophets, or trials of certain prophets with the trials of Christ. In particular this week we talked about the similarities between the prophet Mormon and the prophet Joseph Smith in countenance, stature, family history, and deed.
Both Mormon and Joseph were large in stature for their age and given to sobriety and thinking. Both were approached by a prophet (whether angelic or otherwise) to take care of records when they came of age. Both had to move as children, and both were called after the name of their father. Both had to become leaders of some sort and endure great wickedness and persecution throughout the people of their time. Both were able to see the Lord Jesus Christ at a young age and know of his goodness (see Mormon 1:15 and JSH 1:17). Because of this visit, both trod a lonely road. Also because of this, both were spiritual giants, and had strength and courage beyond most people in the history of the Earth.
It's fascinating to me that these types of parallels between people exist, and I find them to be highly significant. The examples of these two men stand as a witness to the mercy and goodness of God and the love of our Savior, Jesus Christ. The testimony of these men stands and will stand through the ages and rings true in my heart – that we must all come unto repentance and look upon Christ and be saved; that Christ "hath brought to pass the redemption of the world"; and that He is the only name given under Heaven whereby man can be saved (Mormon 7:7). I'm grateful for divine patterns and am also grateful for the scriptures and the prophets both living and dead. I am eternally grateful for the atonement and for Jesus!
If you are reading this post and have any questions or comments, I would be happy to hear from you.