Melissa is a stay-at-home mother of six young children who lives in West Valley City, Utah.
Hi I'm Melissa, and I'm a Latter-day Saint (aka "Mormon")…..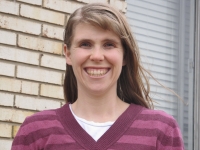 I was going crazy, and I felt like my six children were pushing me along the journey.
Cries of "Mom, he touched me," "Mom, she took my…" "Mom, he won't give me…" "MOOOOOM!" skittered unendingly around our home. My appeals to "please be kind" and "get along" seemed to flutter about unheard.
I prayed earnestly for help because something had to change.
Then, one morning while reading the Book of Mormon I stumbled over a scripture in Mosiah. In chapter four King Benjamin, a righteous leader, teaches his people how to find peace and happiness in life and I found my answer.
"And ye will not suffer your children that they go hungry, or naked; neither will ye suffer that they transgress the laws of God, and fight and quarrel one with another." (Mosiah 4:14)
"That sounds great," I thought, "but how?" King Benjamin had an answer for me.
"But ye will teach them to love one another, and to serve one another." (Mosiah 4:15)
Those words were like magic. It struck me that although I had begged my children to be nice and stop fighting, I hadn't taught them HOW to "love one another and to serve one another."
Our family made three very specific King Benjamin approved changes that made a big difference.
Setting a parental pattern
My husband and I realized that a new atmosphere at home had to start with us. If we wanted our children to love and respect each other, we had to show them how.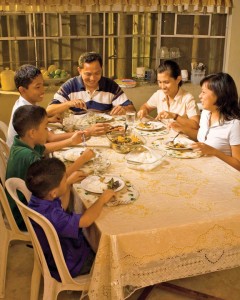 We started simply. At dinner we asked each child to share a favorite part of their day. Everyone else was expected to stop talking and listen. It took patience and practice, but pretty soon kids were taking an interest in each other's daily activities. It was great. We were making progress.
We also more often spoke positively about our kids in front of our kids. We praised them when they shared with each other or cooperated in a game. We thanked them when they put someone else's desires before their own. The kids basked in these loving words and tried to earn them more often. They even dished them out to each other.
Serving each other
Our second step was to provide more opportunities to serve each other. We asked older children to help younger children with difficult tasks like reading books or tying shoes. We also expected younger children to serve. We assigned them to take a drink or a treat to a child who was studying and or urged them to cheer loudest at a soccer game.
We began praying about specific needs for our children in family prayer. We asked for Heavenly Father to help them with tests and sports and friends and sadness. The kids caught on quickly and started regularly praying for each other. They became more aware of each other's needs and feelings through this simple service.
Team up to serve together
Finally, we talked repeatedly about our family "team." Each family member is essential to our team and when we all work together we can do anything. We got our team to tackle service opportunities all around us.
We teamed up for service at home. Instead of assigning each child a chore after dinner or on Saturday afternoon, we paired them together to give them a chance to work as a team. Although they sometimes argued, they more often laughed and the work got done faster too.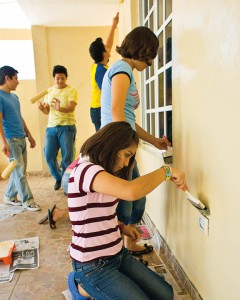 We teamed up for other service as well. We cleaned our local church building, made cookies for friends, visited widows and worked in neighbor's yards all as a team. We clustered around the table to write missionaries and I employed my team to help deliver church handouts. It was fabulous. Our family bonds strengthened and our love for each other increased.
I have to admit that King Benjamin has not solved all of our squabbles. My kids still bicker more often than I like. But our home has become a much more peaceful and loving place thanks to an ancient, Nephite king.