When I was a missionary for The Church of Jesus Christ of Latter-day Saints (inadvertently called the "Mormon Church" by the media), my mission president reviewed 1 Nephi Chapter 17 with me and it gave me a lot of hope. Although I don't believe I'll ever need to build a ship to reach somewhere important, I believe the truths taught within this chapter still apply to me in my life. As I've spent the past couple of years applying things I've learned from this chapter in The Book of Mormon (scripture written by ancient prophets in the Americas), I've grown closer to God and seen His hand guiding me in my life to where He wants me to be and to become the potential He sees in me.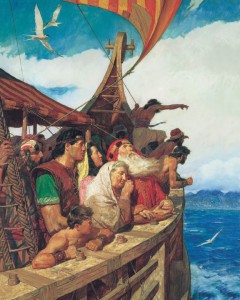 This article is by no means an exhaustive description of the chapter but briefly touches upon the importance of the teachings taught within The Book of Mormon and a comparison with The Bible. Chapter 17 in 1 Nephi contains a story of faith where the prophet Nephi is commanded by the Lord to build a ship. His brothers don't believe it's possible but Nephi follows the Lord's instructions and builds the ship so that his family can cross the ocean to reach the Promised Land.
As you read this chapter, I invite you to look at the footnotes and other available resources which help one study the scriptures. A modern apostle of Christ, Elder D. Todd Christofferson stated "We should therefore study with these questions in mind: "Why was this included? How does this apply today and to me?" ("How to Study the Book of Mormon," Liahona, October 2011 )
Comparing The Book of Mormon to The Bible & My Life
I love comparing the similarities and parallels between The Bible and The Book of Mormon because they both contain eternal truths from the same God (Ezekiel 37:16-17). "Know ye not that the testimony of two nations is a witness unto you that I am God, that I remember one nation like unto another? Wherefore, I speak the same words unto one nation like unto another (2 Nephi 29:8)".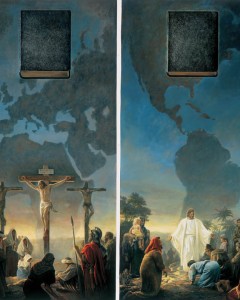 God us an unchanging being and is the same God in The Book of Mormon as He was in Biblical times. "For do we not read that God is the same yesterday, today, and forever, and in him there is no variableness neither shadow of changing?" (Mormon 9:9) For example, the Lord fed the children of Israel in Moses' time (Exodus 16:15) but He also blessed Nephi's family with great blessings in the wilderness such as living upon raw meat and the women bearing healthy children (1 Nephi 17: 1-2, 12).
Nephi "went up into the mountain, and cried unto the lord" (1 Nephi 17:7) for direction in his life and received the answer to build a boat. In the mountains, Adam built an altar and called upon the Lord (Genesis 12:8), the Lord spoke to Elijah in a still, small voice (1 Kings 19:11-12), and Moses received the ten commandments of God (Exodus 19-20). In modern times, we too can pray to God and receive direction and guidance from Him. Worthy members of the Church of Jesus Christ can also enter temples to seek revelation.
I haven't been instructed to build a boat but God has guided me to attend a school I didn't plan on attending or move out of the country. I don't always understand why God may direct me to do something. This is especially hard when it was not my plan or the exact opposite of what I wanted. However, looking back I can see that God has something in mind for me greater than I can imagine and He knows best how to get me there. "After ye have arrived in the promised land, ye shall know that I, the Lord, am God; and that I, the Lord, did deliver you from destruction; yea, that I did bring you out of the land of Jerusalem. (1 Nephi 17:14) Only after I finished my degree or after I moved back into the country did I understand the invaluable and priceless experiences I had obtained through following God's plan for me.
Why is this Important?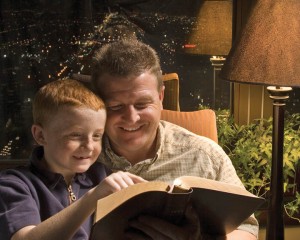 I know that applying The Book of Mormon to my life has blessed me in many ways. I love searching the scriptures and finding God's guidance within them as if He was talking directly to me. "In my judgment, diligently searching to discover connections, patterns, and themes is what it means to 'feast' upon the words of Christ. This approach can open the floodgates of the spiritual reservoir, enlighten our understanding through His Spirit, and produce a depth of gratitude for the holy scriptures and a degree of spiritual commitment that can be received in no other way. Such searching enables us to build upon the rock of our Redeemer and to withstand the winds of wickedness in these latter days (Bednar, 2011. Increase in learning: Spiritual patterns for obtaining your own answers. Salt Lake City: UT: Deseret Book Company, p. 131)."
Additional Resources:
Do Mormons Believe in the Bible?
Visit this site for a free copy of The Book of Mormon.
Visit this site for a free copy of The Bible.
Brief explanation of The Book of Mormon