Father and Mother of a Stripling Warrior
Written by Ashley Bell, a member of The Church of Jesus Christ of Latter-day Saints ("Mormon"), graduate of BYU in Recreation Management, wife and expectant mother residing in Taylorsville, Utah.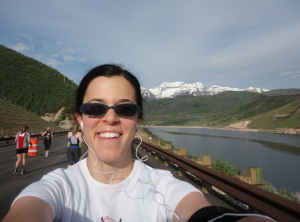 Tyler and I are 22 and 23 years old, and we found out this past month that we will be the parents of a future stripling warrior this coming June! Those ultrasound pictures are now treasures for us. On the last still image he was even giving a total thumbs up, as if to say "I'm excited to come, and we're going to have fun!"
So what is a young couple like us supposed to do with the realization that we are actually going to be parents? We are so excited for it, and it seems like all fun and games, but in reality, the responsibility to parent is great. Luckily, both Tyler and I have had great examples of goodly parents and so we can learn from their good doings; but at the same time our son's grandparents aren't going to be raising him… we are!
We Are Never Alone
The beautiful thing about parentage is that we don't have to do it alone. God gave men and women specific attributes to help in the raising process. Not every family gets the chance to have a mother and father in the home, but in these situations I really do believe that the Lord makes up the rest if the parent rearing the child asks in faith with a believing heart.
Since we don't have to do it alone, how can we do it together? Well, Tyler and I found comfort from the scriptures by the example of the parents to the young Stripling Warriors; whose story can be found in the Book of Mormon.Their dad's had repented of their old ways and had covenanted that they would not take up arms again to fight; so what happened was that when a war broke out, they sent their sons to go in the stead!  Their father's ability keep their covenants shows they put God first and that they diligently presided in their homes. They were fulfilling their role as a good husband and father by keeping their covenants. Now is this all that they did? No. In Alma 56:27 we read that while their sons were off to fight for the liberty of their families, "there was brought unto [them] many provisions from [their] fathers!" This sounds an awful lot like providing and protecting if you ask me. If you are familiar with this story then you know that these young sons also "did not fear death" and they attributed this faith to their mothers by saying, "we do not doubt our mothers knew it" (see Alma 56:47-48). It is obvious here that their mothers were faith-filled women who knew how to nurture, something that these young sons desperately needed throughout their lives in order for them to stand ready when the call arose.
Now what stood out to me here was the fact that the mothers and fathers played different roles in this situation—and yet both were vital! The fathers did preside, provide and protect. And the mothers did indeed nurture. These roles can also be found in The Family: A Proclamation to the World, which was given to us by modern day prophets. Yet again Tyler and I were comforted by the Holy Ghost that even though we are young and inexperienced we can still raise a valiant stripling warrior of the latter days if we but hearken to the scriptures and to the voice of modern day prophets.
Just last night Tyler shared with me a quote from a modern day prophet, Elder Robert D. Hales, that can be applied to parents everywhere throughout the world. The words hold power, "Parents are never failures when they do their best to love, teach, pray, and care for their children" (CR, April 2004). I know we will make mistakes, but the bottom line is, if we do our best to fill our divine roles as parents, we cannot fail.
Additional References: 
Learn more about divine parental roles in The Family: A Proclamation to the World
How the Book of Mormon can help answer life's questions
Request a free Book of Mormon