BYU (Brigham Young University) is operated by The Church of Jesus Christ of Latter-day Saints, often mistakenly called the "Mormon Church."  BYU students take nearly a semester of spiritually uplifting, stimulating religion classes.
In this series (see below), students enrolled in scripture study classes have shared their thoughts, insights, and reflections on the Book of Mormon in the form of letters to someone they know. We invite you to take a look at their epiphanies and discoveries as they delve into the scriptures.
In publishing these, we fulfill their desire to speak to all of us of the relevance, power and beauty of the Book of Mormon, a second witness of Jesus Christ and complement to the Bible. The Book of Mormon includes the religious history of a group of Israelites who settled in ancient America.  (The names they use are those of prophets who taught the Book of Mormon peoples to look forward to the coming of Christ—Nephi, Lehi, Alma, Helaman, and other unfamiliar names.  We hope those names will become more familiar to you as you read their inspiring words and feel the relevance and divinity of their messages through these letters.)
Let us know if you'd like to receive your own digital copy of the Book of Mormon, and/or if these messages encourage and assist you spiritually as well.
Book of Mormon: The Lord Will "Speak Peace" To Our Souls
I wrote this for a general audience and posted it on Facebook.
I was reading in the Book of Mormon the other day, and I decided that I wanted to share what I learned. For those of who you who don't know, the Book of Mormon is a record of some of the ancient inhabitants of the Americas and a companion to the Bible that testifies of Christ and contains the fulness of His gospel. In Alma chapter 58, a people called the Nephites are doing their best to be righteous and protect their lands from the Lamanites, who are trying to subject the Nephites and destroy their liberty. Currently, the Nephites are worried that the Lamanites are going to defeat them because they (the Nephites) haven't been sent adequate reinforcements.
In Alma chapter 58 verses 10 through 11, Helaman, the leader of the Nephite army, says:
We did pour out our souls in prayer to God, that he should strengthen us and deliver us out of the hands of our enemies, yea, and also give us strength that we might retain our cities … and it came to pass that the Lord our God … did speak peace to our souls, and did grant unto us great faith, and did cause us that we should hope for our deliverance in him.
In church, when we are reading the scriptures, we are always taught to take the events and lessons in the Book of Mormon and apply them to our own lives. For me, this scripture is very comforting, because it tells me that whenever I am worried about something, I can pray to Heavenly Father, and He will give me peace and strengthen me so that I can overcome it.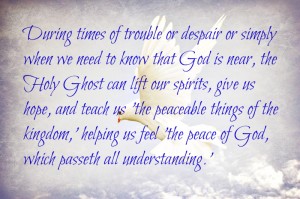 In fact, last week, I had to give a twenty minute presentation in my Russian 102 class, and like anyone that knows me can tell, I detest speaking in front of people. I get really nervous, and usually don't do a very good job. Last week, I was freaking out about it, as usual, and so I prayed every day that I would be able to do a good job. The time for my presentation comes, and for once I am not nervous. I go up to the front of the class, and speak calmly for twenty minutes about Russian holidays. To me, that is a miracle.
I want to tell anyone that takes the time to read this that I know that The Church of Jesus Christ of Latter-day Saints is the true church of God, and that if we pray, Heavenly Father will always be there to answer our prayers and help and comfort us, no matter what religion we are.
Additional Resources:
I Believe: Expressions of Faith