BYU (Brigham Young University) is operated by The Church of Jesus Christ of Latter-day Saints, often mistakenly called the "Mormon Church."  BYU students take nearly a semester of spiritually uplifting, stimulating religion classes.
In this series (see below), students enrolled in scripture study classes have shared their thoughts, insights, and reflections on the Book of Mormon. We invite you to take a look at their epiphanies and discoveries as they delve into the scriptures.
In publishing these, we fulfill their desire to speak to all of us of the relevance, power and beauty of the Book of Mormon, a second witness of Jesus Christ and complement to the Bible. The Book of Mormon includes the religious history of a group of Israelites who settled in ancient America.  (The names they use are those of prophets who taught the Book of Mormon peoples to look forward to the coming of Christ—Nephi, Lehi, Alma, Helaman, and other unfamiliar names.  We hope those names will become more familiar to you as you read their inspiring words and feel the relevance and divinity of their messages.)
Let us know if you'd like to receive your own digital copy of the Book of Mormon, and/or if these messages encourage and assist you spiritually as well.
Book of Mormon: Having the Courage to Act
This past week we studied Alma 57 through Helaman 4. Alma and Helaman were prophets in ancient America. If you have a spare minute, you should read Alma 58 verses 9-13. These are the verses that really stood out to me. In verse 9 it states that "…the cause of our embarrassments…we knew not; we were grieved and filled with fear…." The Nephites are at war with the Lamanites, and do not have sufficient provisions or supplies to sustain them. They have "friends" in neighboring cities that should be sending them help but are not. The Nephites do not understand why this aid is not coming to them. But instead of wallowing in self pity, or letting their fear take over for the future, they act. Verse 10: "Therefore we did pour out our souls in prayer to God, that He would deliver us…[and] give us strength.…" Then, after praying with all of their might, the Lord blesses them with comfort and peace and grants unto them "great faith, and did cause that [they] should hope for [their] deliverance in him."
I love this idea. These people were fearful for their lives. They did not understand why these problems were occurring or how they would be fixed. But they did what they knew how to do. They fell to their knees and prayed with real intent. God poured out love and comfort to them, and then gave them a special gift. He blessed them with great faith, and great hope that they would be sustained and delivered.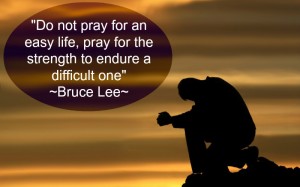 I feel that sometimes, we don't know why things are happening in our lives the way they are. We do not understand all things. And sometimes, we are too afraid to have faith in the future or too discouraged to have hope. But in these times we must not forget to pray. We must always pray. The Lord, in His infinite mercy, has the power to bless us with comfort in those times of struggle. And even more, He can eventually bless us with faith and hope, if we let Him. I have felt this power in my own life. Sometimes I feel too weak, or too hurt, or too fearful of my future to have faith and hope. But that is not what matters. What matters is that I have a desire to have faith and hope, and as I pray to my God for help, He will bless me. That blessing may be of comfort, of courage, of strength, of faith, of love, of patience, of hope. I am so grateful for this truth. I also have a testimony that as we pray for others, great blessings come from that as well. We may feel these blessings in our own lives or see them manifest in the lives of others.
I invite your questions or comments, or feel free to share this with a friend.
Additional Resources:
I Believe: Expressions of Faith